SAMPLE
Mountain Valley Center News
March, 2013 Vol. 14, Issue 3
TOPICS: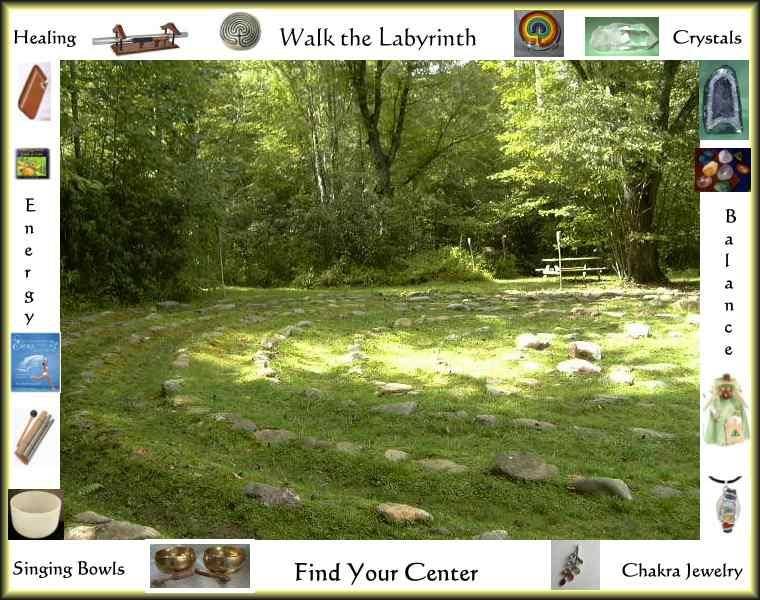 – Seven Rays Master Certification Workshop Intensive,
90 Minutes Transformation Sessions
– 2013 Labyrinth Gathering Schedule.
– The Welcome Center is open in the afternoons Wednesday through Saturday. Closed Sun – Tues
This newsletter is sent only to those who have requested it. If you have received it in error, please reply by typing Remove in the subject line. It is in html format, just like a web page. Connection to your internet server is required to view the photos and graphics
ANNOUNCEMENTS
Penny is now at the Welcome Center store on Saturday afternoons. If you stop by you might even talk her into doing a tarot reading for you! Welcome Penny!
Our groundskeeper from last year, Marvin, has moved to South Carolina. We are in need of someone to keep the water flowing, weedwack, and mow this year. If you are interested or know anyone who is, please call Charlie at 888-773-2491.
Food for Thought
Have you ever worked on a project for months and months and felt like it was never going to be finished? Of couse you have. And we have too – finally finished that is. YEA! With the help of web designer George Lerner – would recommend him to anyone – totally exceeded our expectations – we have revised our 1998 website and brought it into the 21st century. We selected a healing green background for the new website so visitors receive the color of the Heart Chakra for healing and love while visiting. Then we accented it with Gold to give abundance of all things (love, healing, prosperity) to our visitors.
Next came the making of menus so visitors can see every page on the website by clicking on the expanding menus in the left column. During that process, we found articles and slide shows we didn't even know we had! Finally, we revised every page (all 200+ of them) to create a total viewing experience.
Now comes your turn. We invite you to visit our new website at Mountain Valley Center Since you are on our mailing list, you've been there before, but may find some things very new – especially our expanded Free Article Section. If everyone on this mailing list that was on FaceBook would go and click "like", we'd have over 1000 likes instantly. Wouldn't that be wonderful!! And while you're there, we'd love you feedback about things that work and you like and things that need more tweaking. It's a whole new experience we are grateful to be sharing with you! Have a Blessed Month!
April Workshop
Seven Rays Master Certification Workshop Intensive
Its time to think about registering for our up coming workshop. Here's the theory behing the 7 Rays
The Seven Rays are sub-aspects of cosmic energy of different vibrations, quality, frequency and color. The Seven Rays are the expression of Divine universal order.
They correspond to the different functions and systems of the body. Thoughts and emotions vibrate with relatively light energy. The physical organs correspond to a more dense energy.
Similarly, the Seven Rays are highly diversified in their scope. Each ray is Divinely designed for healing a particular process or organ.
When a Seven Rays healer applies the rays of the appropriate energy-frequencies to a disordered condition of the body or emotions, balance and vitality are restored. This simple but powerful technique, once learned, becomes a tool for life!
This highly intensive workshop is designed in such a way that once you have completed it you will be able to give Seven Rays energy healing to yourself and others both near and far with confidence. You will become a Seven Rays Energy practitioner by the conclusion of the workshop.
To register, go to https://mountainvalleycenter.com/7rays-workshop.php. Remember there is a 15% discount when 2 people register together.
Here's what one participant experienced during the workshop
Shared by Janice Ammon, workshop participant
In this "New Millennium of Light," I came across the most mystical, magical and practical healing modality at a weekend intensive workshop, "Discover the Universal Power of Healing with the Seven Rays."
The workshop was all about how to personally channel, apply and work with specific healing energies embodied in each of the seven rays. Each ray transmits a specific divine energy, from a divine power source (like a "divine power plant").
Each ray vibrates on its own individual frequency to heal a specific condition. There is a ray to enable cancer survivors to prevent recurrence. Another ray can restore inner peace and harmony, where there were deep emotional scars before.
Workshop leader Salahddin, Grand Master of the Universal Fellowship of the Healing Rays, began by focusing on exercises designed to clear out much of the old baggage — those buried mental and emotional blocks that hold us back from achieving our full potential.
The purpose of these exercises, Salahddin explained, was "to heal the healers first," to cleanse our minds and emotions so we could be clear, unblocked channels for the healing light.
When these purification sessions concluded, I was amazed at how I felt! Miraculously, I was released from old mental and emotional hurts that had weighed me down for such a long time. Free at last, my inner self was now ready to take a personal journey back into earlier lifetimes, to discover powerful inner strengths that would empower me to master and overcome new challenges still ahead in my life's journey.
Excited about this new vision, I was now spiritually, mentally and emotionally prepared to receive the healing power of the seven rays. As this amazing power was passed on to me, I instantaneously felt as though I was "plugged into the light." This was a much more intense, deeper connection to the light than I had ever imagined possible!
Each of us worked with one another, to determine what physical, mental and emotional conditions needed healing. We proceeded to draw upon, and direct, the appropriate seven ray energy to the proper areas of the body. This same healing procedure could be self-administered later on, to give ourselves a seven ray healing each and every day. A new technique to release emotional and mental stress — plus a new anti-aging procedure designed to rejuvenate ourselves physically, mentally and spiritually — were other magical self-healing tools we acquired.
EFT Tapping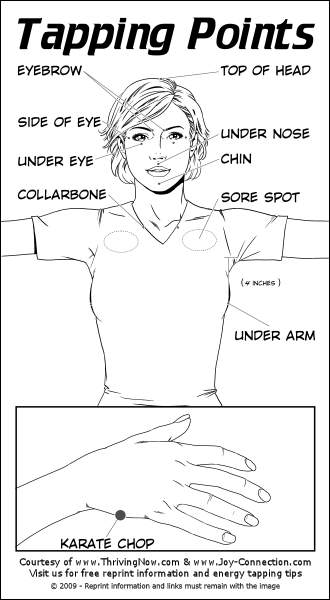 We started the year with breathing exercises as our article series, however after completing several EFT tapping seminars, we've decided that tapping is more exciting to us, and hopefully to you. So this year's article series has now changed to EFT tapping.
EFT – Emotional Freedom Technique – is a way to combine affirmations with meridian points to release blocks to well being. References to EFT that we like best are: The Tapping Solution.com and YouTube Videos by Paul Yates (just search for Paul Yates on Youtube). Each month we will provide a tapping protocol by Jill to play with. Just use your fingertips on yourself on the points in the picture and tap along. Tap gently and you will discover a new world of release and peace. Remember that you take complete responsibility for yourself when tapping.
Tapping to release Stress
Close your eyes and feel how much stress you are currently carrying in your mind and body. Give it a number from one to ten. You will come back to this number and observe any changes in its value after the following tapping experience.
Tap on the following points while saying these words out loud
Karate chop point – Even though I am often stressed, I deeply and completely love and accept myself
Karate chop point – Even though I let life often get to me, I deeply and completely love and accept myself
Karate chop point – Even though I want to relax and I don't know how, I deeply and completely love and accept myself
Eyebrow – So much stress and tension
Side of eyes – So much stress
Under eyes – How did I let all this stress in my life?
Under nose – Other people don't seem to have this much stress
Chin – Why me?
Collarbone – I'm stressed out by all this stress
Under arm – I want more than anything to live stress free
Top of head – But I don't think its possible for anyone to live stress free
Eyebrow – Maybe it is possible to live stress free, but I don't know how
Side of eyes – Maybe stress has to do with all the worrying I do about the future
Under eyes – But the future is not now, and I am OK right now
Under nose – Am I OK right now?
Chin – Yes, I really am OK right now
Collarbone – Maybe I can learn to pay more attention to the present and forget the past and future for right now.
Under arm – I choose to do that, I choose to feel OK right now
Top of head – I feel good right now in body, mind, and spirit
Take a deep breath. Let it out. Look at your number. Has it gone down? It's OK even if it has not, you are on your way to less stress right now.
90 minute Transformation Sessions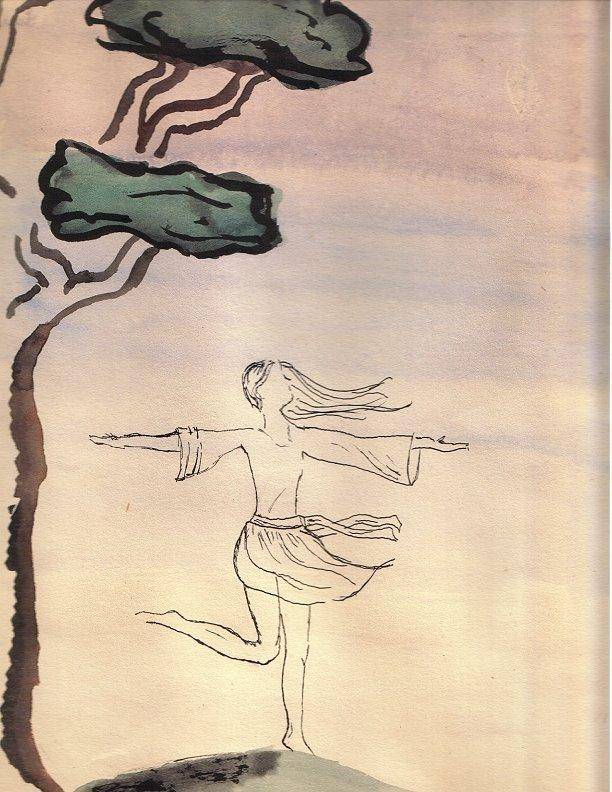 Transform your Life in just 90 minutes. Well, maybe not just 90 minutes. And maybe not your entire life. But you can start today and your todays do create your tomorrows! So give it a try – there is nothing to lose and plenty to gain from working with Dr. Jill Henry, EdD, PT, APP.
In 1988 Jill completed her doctoral dissertation at The University of Georgia on the topic of Development and Learning for Transformation. In her research, she developed The Transformation Station. A set of learnings and developmental stages where fear is transformed into love, illness into health, isolation into unity, and work into calling. Based on her research and life experiences since then, Jill now offers individual Transformation Sessions to help you transform your life.
Each 90 minute Transformatin Session includes one or more of the following modalities, depending upon Jill's assessment of your physical, mental, emotional, and spritual needs at the time of the session.
CranioSacral Therapy Treatment to align and heal your body
Polarity Therapy Treatment to balance your body's Energy Field
Individualized Meditation Practice Instruction to take control of your mind
Individualized Guided Imagery to tap into your Inner Spirit and Guides
EFT Tapping experience to release mental and emotional blocks in your life
Metaphysical Insights to discovering your Spiritual and Life Paths
Past Life Regression to discover and release karmic blocks
90 minute Transformation session is $90.00
Three 90 minute Transformation sessions for $250 when scheduled at the time of payment
Phone Toll Free 888-773-2491 to schedule Transform your Life now!
2013 Full Moon Labyrinth Walks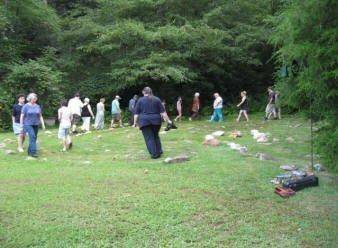 We are changing the Full Moon Labyrinth Walks this year to Friday nights. This will give folks who drive an excuse to "get off early" from work, and folks who enjoy their weekends to have a full one. This year's focus is on the energy of crystals and gemstones and we will be playing with different gemstones during each gathering. The Welcome Center will be open on Fridays from 1 pm to 9:00 pm on Gathering days, so come early and relax with us before our group labyrinth walk and drumming circle.
2013 Group Labyrinth Walk Schedule
Friday, April 26th, 7-9 pm – Clear Quartz – spiritual alignment
Friday, May 24th, 7-9 pm – Amethyst – spiritual Intuition
Friday, June 21st, Summer Solstice – 7-9 pm – Blue Lace Agate – creativity and communication
Friday, July 19th, 7-9 pm – Rose Quartz – opening the heart
Friday, August 16th, 7-9 pm – Citrine – personal power
Friday, September 20th, 6-8 pm – Carnelian – harmonizing relationships
Friday, October 18th , 6-8 pm – Garnet – grounding and balancing
Quote of the Month
I am too positive to be doubtful, too optimistic to be fearful, and too determined to be defeated.
Many Blessings on Your Journey
Jill & Charlie
Mountain Valley Center and the Otto Labyrinth Park
43 Shambala Way, Otto, NC 28763
Toll Free: 888-773-2491
Toll Free Phone Answering 9 am to 9 pm 7 days/week.
In Person – Welcome Center: Open Afternoons, Wednesday – Saturday. Closed Sun – Tues. M/p>