Our Story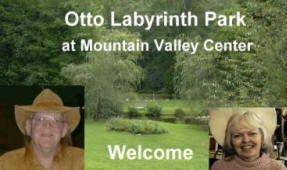 In the mid 1980's,we were living in Augusta, Georgia and decided that we needed to become enlightened. We reasoned that a good place to become enlightened was in the mountains. So we rented a cabin for the weekend somewhere off the Blue Ridge Parkway. We arrived at night in dense fog, found the cabin and checked in, only to find that the restaurant was closed and there was no TV! When we woke up the next morning we discovered that our window looked out over a graveyard! Nevertheless, we went out looking for our enlightenment. We hiked down a gravel road looking for a waterfall. After several hours of hiking, and only finding horse droppings, we returned to the cabin and called it a day. The second morning we decided to rent the horses that had obviously found the waterfall the day before. Neither one of us are experienced horse-riders but Charlie was put on Spitfire and I was put on Fireball. The horses took off and we went bouncing along with them. Somewhere during that ride we both finally relaxed into the realization that the horses were totally out of control and that at any moment we would be thrown off to our deaths! And then it happened. We had given up control, and were allowed to experience Truth. For a moment, or an eternity, we could not tell which and it does not matter, we became one with All. There was no separation, no difference, between ourselves and the horses, the grass, the trees, the horizon, the earth, the sky. We were All That Is and All That Is was us. Just as suddenly as it began, the experience ended. We were back on the horses riding towards the barn. We dismounted, got in the car, checked out of the cabin, and came home. We had experienced what we intended; though not how we intended it.
From that moment on, our lives changed. We visited the Smoky Mountains again and this time went around with a realtor. When we stepped on our property, we knew we had to buy it and it was not for us alone. We told the realtor that we could afford the payments, but had no money down. Within 6 weeks the bank offered 80% and the broker offered 20% and we found ourselves signing the papers. Within 6 months we had an offer for our home in Augusta, GA (it was not on the market) and were offered jobs in physical therapy 7 miles away from our property. We "gave in" to the Universe and moved to Otto, NC.
We first came to the Smoky Mountains of North Carolina in the early 90's as practicing Physical Therapists. In 1998 we opened the store, land, and website. We built the Labyrinth Park in April of that year and launched the website in the Fall. In April, 2009, with the help of our customers and friends, we moved the business to the Labyrinth Park. There it provides sanctuary and facilities for Park Visitors. (see pictures below).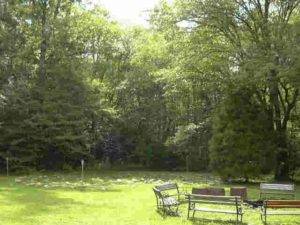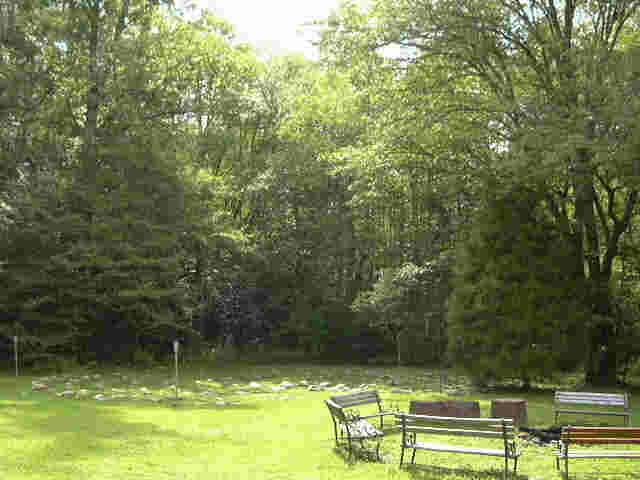 Join us in walking our rock labyrinth, strolling along paths through the forest and stream, or just sitting by the ponds and watching the fish play. Come to the Welcome Center for restrooms, refreshments, and wonderful gifts.
Our intention is to develop the rest of the property. Ideas include a Metaphysical Community, a spiritual healing center, an intentional community, or something else. We are currently looking for partners/investors/legal advisors and other people interested in joining us in determining what the land will become. Join us in exploring, facilitating, and advancing Well Being at Mountain Valley Center!
Joy and Blessings to you, always!
Jill & Charlie Henry
Mountain Valley Center & The Otto Labyrinth Park
43 Shambala Way
Otto, NC 28763.
Phone Toll Free 888-773-2491
email: mail@mountainvalleycenter.com
The labyrinth is open dawn to dusk. After hour activities must be arranged in advance at Mountain Valley Center.
Guided tours of the labyrinth and special group activities must be arranged in advance.
We have established a non-profit organization to facilitate development of facilities at the Labyrinth. Plans include building a "screen house" with restrooms and a fireplace just beyond the pond. Plans have also been drawn up for building several cabins in the woods to accommodate visitors on site. If you would like to help us fulfill these plans by making a tax deductible contribution to the Otto Labyrinth Park Fund.
Driving Directions:
FROM THE NORTH – We are an hour and a half drive from Asheville, NC. Cherokee and the Smoky Mountains National Park are 45 minutes away. Drive to Franklin, NC and come south on 441 (towards Atlanta) approximately 7 miles. Turn right on Calvary Church Rd. Turn Left on Shambala Way.
FROM THE SOUTH – We are an hour from Gainesville, GA and 1 & 1/2 to 2
hours from Atlanta. From Atlanta, take 985 to Gainesville, then drive North East until 441 North joins the four lane. Continue on the same road to Clayton, GA and on to Dillard, GA. We are 3 miles North of Dillard. Turn left on Calvary Church Rd. Turn Left on Shambala Way.
If you are using GPS to locate us, enter "438 Calvary Church Rd, Otto, NC 28763". Shambala Way was 438 Calvary Church a couple of years ago, but some GPS systems can't find us yet.